Alright, let's sweep all that sadness under the rug and move on! And back to being a vain bridezilla :D
Simple hair-do with large accessories, I think this one is pretty normal for hijab wearing brides but maybe not full on your head || Not fancying the messy do, Malaysia is too hot for that. But a simple hairband is really sweet ♥
Top hat? Hmm maybe not the most suitable accessory || This wrap-around hairband is cute & sweet too.
My high-school friend,
Ima
on her solemnization night. Look at that feathered brooch on her head. Modern approach than the usual head pieces. She was inspired by SJP on
Sex & The City wedding
.
And I've lost the link to this original photo owner, but got this from one of Malaysian young fashion designers. Love that lace + beaded hairband.
Anyways, I'm not sure about the hair-do for my wedding day coz I really have no idea which will suit me best but I think this one below is the one Alfad wanted to do for my white reception;
Would much prefer to have a little side swept bangs as it softens the look.
As for bertandang reception, right now I'm a lil bit of cold feet wearing
bird-cage veil
, but no worries since Alfad has prepared a crown for me if I feel agitated to wear the bird-cage veil. Or no veil at all? Or maybe braids? Read previous
BRAIDS post
.
Ashley Olsen || Nicole Richie || Jessica Alba
20's styled finger waves hair-do is also in my list, love the soft retro look it brings;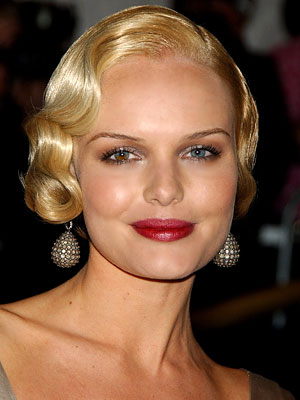 Kate Bosworth
Natasha Poly
What do you think? Any suggestions? :)
p/s: Still undecided on solemnization hijab as I haven't seen the
full outfit
yet from Mimpi Kita :(
BTW IF YOU GUYS CLICKED ON ANY TINYPIC IMAGES but not getting the correct photo, so sorry! I think they've gone crazy! OMG MY OLD PHOTOS T____T