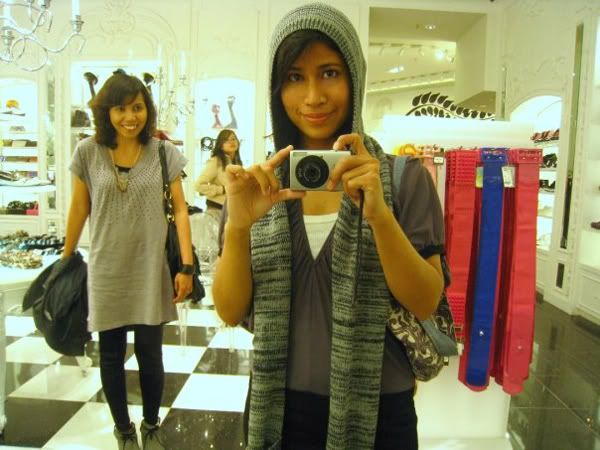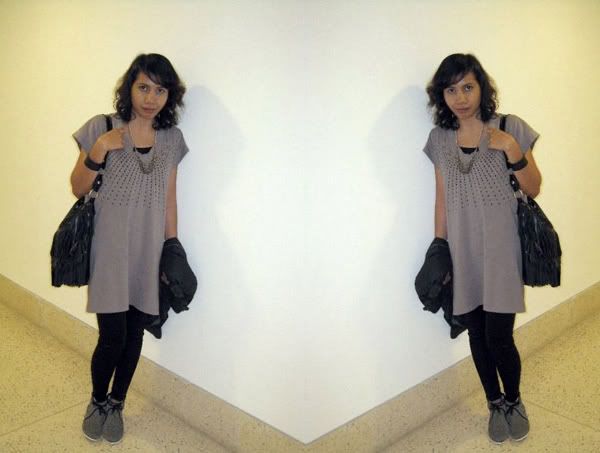 Perforated Long Tee dress (theshoplifters), glossy satin leggings (miss ocd), perforated grey boots (theshoplifters), multiple chain necklace (f21), biker jacket - in hand (zara).
These photos are pretty old but I haven't been taking any photos in such a long long time. I haven't charged my camera's battery for like a month (or two?).Haven't been in the mood to blog for the longest of time either, sometimes all you wanna do is just take a break from everything and go away rite. But that's not possible especially if you have commitments that hangs on your neck like a plague.
In the first picture, was the day Sarah invited me for a lil meet-up with bloggers (haha!). I get to meet Dila Raden, Miss Weed (a very cool teacher), Jenny, Shix, Adik Jenny. Thanks Sarah, though we almost lost our way home in the heavy rain XD
Quickie of what I've been into lately;
- trying to keep my hair long, it's now past the shoulder mark. Frizzy & tangled, kinda regret perming it.
- the heat is killing me, so long basic tees & leggings on non-working days.
- my fringe bag is torn inside out, but I don't have the heart to buy a new one. nor the $$ honestly.
- broke as ever, as always.
- NOT preparing for engagement ceremony at all, coming end of July.
- cut-out flats are loooove.
- light denim? more loooove.
- sleepin' naked? every other day, hah. the heat people, the heat!
- i've been using
Clarins
skincare, and loving it!
- what else?
- i'm dreaming of Bandung, Indonesia trip every night now that it's barely a month away. Hah! Tell me what I should wear overthere, help!
Okay that's all!
Ashley Olsen stripped down to strike a few moody poses for the upcoming Summer issue of V MAN, which hits newsstands this Thursday. She chatted with Marc Jacobs about her forthcoming men's collection for The Row, and the two designers also touched on her work ethic and the differences between her and Mary-Kate.
* On doing a "celebrity line": "
The way I look at it, I had a career as a child. I had a career in an industry in which the media kind of. . . they're obsessed with the young girl thing. But when I turned 18, I moved to New York, and I haven't really done anything to be a celebrity. I've been transitioning from acting as a kid to doing something that I'm choosing for myself — to be a part of the fashion industry. . . the outside perception is very different because you do have celebrity brands, people like Jessica Simpson and Kimora Lee Simmons, and those are celebrity brands because they have their names on them.
"
* On working with Mary-Kate: "
The Row is really something that I'm doing while my sister still wants to focus on acting. She's my partner in The Row, but she trusts me with the every day. I mean, I see her like ten times a day.
"
* On being different from her twin sister: "
When I was 14, 15, 16, 17, it was harder because the two of us were still very similar. We had to work through what's special about us, and then the media had to work through it. . . I've never been one to engage the media to say that I'm different. I actually did the opposite and I totally went internal. I was like, "See y'all!" I want to be behind the scenes, and I don't want people to know anything about my personal life. I have a job, I take it very seriously, and I work really hard
."
ONTD/olsen-files